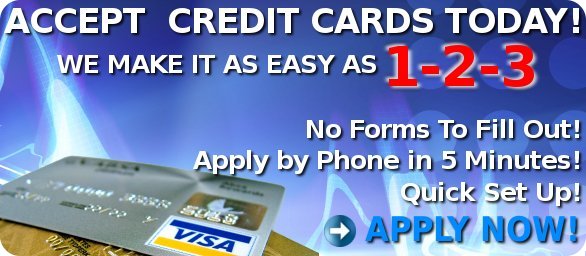 VeriFone Vx570
VeriFone Vx670

Premium Solution VeriFone Vx570
Process using phone line or internet connection. Smart Card ready terminal.

The newest member of VeriFone's wireless Vx family of terminal solutions. The Vx670 is small light and easy to use. Its an ideal solution for the mobile business.

Way Systems
Nurit

8000

or

8020

Wireless Solution Way System w/wireless printer
Hand Held, Wireless, Smart Card enabled terminal.

It's the smallest full featured hand-held terminal with integrated printer available today.

VeriFone CR1000i Check Imager
Tap & Go

Check Solution: VeriFone Vx570 w/ CR1000i Imager
Process checks electronically just like credit cards!

A simpler way to pay: Just Tap and Go!
No signature required $25 and under

T-7 P
PP1000 PinPad

Advanced retail countertop POS terminal accepts all card types.

Accept Debit and EBT Cards using your terminal.